News : Christmas at Tommy's 2011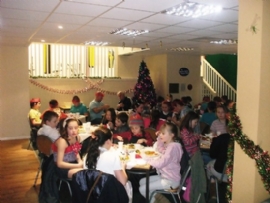 This year Tommy's staff and volunteers took on the challenge to put on a full Christmas for over 50 members. Preparations started days before getting the club in to the Christmas mood and setting the scene. This was achieved with no small thanks to a local Facebook group call make a dream and one of its founders Debbie who donated an amount of money to the club which enabled us to buy all the Christmas decorations and all the ingredients for the Christmas Dinner.
So the scene is set and off we go like a well oiled machine the food is prepped, the gang start to arrive, so few gangs to get everyone in a good mood then out come the first course and so this was repeated through a full three course dinner. All fed and watered then can the big surprise "SANTA" popped in to see each of the children what a great end to a night.
A great big thank you must go out to all the staff and volunteers who gave up so much time to make this possible.

Now go and check out the Gallery pictures and see if you can see yourself.